ICHCA Technical Panel: 4 Days to Go … Don't miss out, register for the ICHCA Technical Panel Meeting today!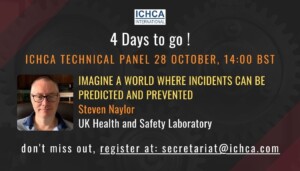 Only 4 Days to go!  … don't miss the chance to attend our first open invitation ICHCA Technical Panel meeting on 28 October.  This is your opportunity to see the four world-class webinar sessions that we have lined up for you.
Today's spotlight: Biography of Steven Naylor, one of the UK Health and Safety Laboratory's top specialists, who will be delivering session 2: Imagine a world where incidents can be predicted and prevented.
Steven Naylor  BSc MSc – Steven is a Senior Scientist in HSE's Science Division, working within its Data Analytics team, and a technical lead on its Discovering Safety Research Programme. He's part of a diverse team of scientists who collectively deliver projects for HSE, other government departments and for industry, utilising capabilities in data analytics, information systems, statistical modelling, epidemiology and quantitative risk assessment. Steven's own area of technical specialism is in the application of data analytic techniques, including data mining, text mining and natural language processing, and predictive analytics, to generate intelligence from routine health and safety datasets, to support better organisational health and safety decision-making.
We look forward to seeing you on the 28th.  To register for this free event, please email secretariat@ichca.com – we guarantee that you will learn something new!