ICHCA Technical Panel: 5 Days to Go … Don't miss out, register for the ICHCA Technical Panel Meeting today!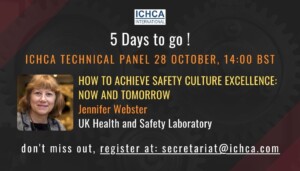 Only 5 Days to go!  … don't miss the chance to attend our first open invitation ICHCA Technical Panel meeting on 28 October.  This is your opportunity to see the four world-class webinar sessions that we have lined up for you.
Today's spotlight: Biography for Jennifer Webster, one of the UK Health and Safety Laboratory's top specialists, who will be delivering session 1: How to achieve safety culture excellence: now and tomorrow.
Jennifer works as an Occupational Psychologist for the Health and Safety Executive's Science and Research Centre (formerly HSL) in their Risk and Human Factors Group, where she has been since 2008.  She has extensive experience of working with organisations in a variety of different sectors to improve their safety culture.  Jennifer has also been heavily involved in HSE's demographic research and the impact of longer working lives, as well as providing training and consultancy to support businesses become better at managing the risks of work related stress at an organisational level.
We look forward to seeing you on the 28th.  To register for this free event, please email secretariat@ichca.com – we guarantee that you will learn something new!