ICHCA Technical Panel: 8 Days to Go … Don't miss out, register for the ICHCA Technical Panel Meeting today!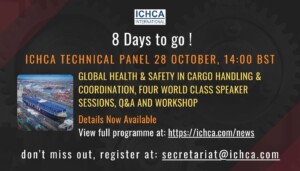 Only 8 Days to go!  … don't miss the chance to attend our first open invitation ICHCA Technical Panel meeting on 28 October.  This is your opportunity to see the four world-class webinar sessions that we have lined up for you.
Full Programme available from https://ichca.com/wp-content/uploads/2021/10/ICHCA-TECHNICAL-PANEL-Programme-28-October-2021.pdf
We look forward to seeing you on the 28th.  To register for this free event, please email secretariat@ichca.com – we guarantee that you will learn something new!