2019 – a busy year for ICHCA
The year passed so quickly, looking back it is hard to contemplate the activities undertaken on behalf of, or with our membership. Members who regularly read this newsletter will be aware of some of these activities, but here I will summarise the key highlights.
IMO
Much activity took place at the International Maritime Organisation where ICHCA celebrated 50 continuous years as an accredited NGO (Non-governmental organisation on consultation).
The Maritime Safety Committee is the main body for making legislative decisions affecting our industry, but we tend to focus our attention on the sub-committees of MSC where the substantive work is undertaken.
Early in the year we took part in SDC#6, the 6th session of the "Ship Design and Construction" sub-committee. At this session the work on developing new guidance for "Safe Mooring Operations" was concluded. This is an activity that many of our members take part in and is still a dangerous task with a number of fatalities and injuries occurring last year. The guidance will be circulated as soon as it is available.
At SSE#7 (Ship Systems and Equipment) the work on "Ships' Lifting Appliances and Winches" progressed further. Members may be unaware that such equipment is not covered (yet) by the SOLAS requirements and ICHCA, along with others, fought hard over many years, to change the requirements. Eventually IMO agreed and the SOLAS amendment has been written but work continues on the accompanying guidelines. Some ICHCA members and Technical Panel members assisted with the responses to these in the intersessional correspondence group co-ordinated by colleagues in Japan. The final report has been submitted to IMO so that the work can be concluded at the 7th session of the sub-committee in March this year.
During the year ICHCA was represented at the sessions of MEPC (Marine Environmental Protection Committee), largely to do with the work on vessel emissions.
CCC (Carriage of Cargoes and Containers) is arguably the most important sub-committee we attend, usually with a very large delegation, and this year was no exception.
We were concerned with various agenda items including:
Amendments to the IMSBC Code and Supplement.
Amendments to the IMDG Code and Supplement, especially relating to special provisions following the recent spate of ship fires.
IMDG Code with respect to carbon.
Analysis of gaps in training for handling and storage of Class 7 cargoes.
And significantly, revision of the guidance for inspection of CTUs (MSC.1 Circ 1442) to widen out the provision for inspections to incorporate, specifically, all types of cargo and reporting enabled for NGOs.
We managed to get this agreed at the previous MSC as a new output with the support of New Zealand. Bingbing Song, IMO secretary of the CCC sub-committee told us at the Malta Conference that this was a major achievement for an NGO and quite unprecedented. Bingbing was also accompanied by Ms Heike Deggim, Director of the Maritime Safety Division, who made the keynote speech and presented the two awards. See the conference report below.
There is a full programme of IMO meetings again this year, many of which ICHCA will be represented at. For a full list check the ICHCA website.
UNECE
ICHCA participated in Working Party 24 (WP.24) in Geneva, this is the multimodal transport working group with responsibility, among many other things, for the IMO/ILO/UNECE Code of Practice on Safe Packing of CTUs (CTU Code).
Members may be aware that ICHCA, along with its partners in the Cargo Integrity Group (CINS, WSC , GSF and TT Club), is working up a number of industry outcomes to help improve safety in the supply chain and they will be launched at an event this year.
INDUSTRY PARTNERS
Following the important MOU signed in 2018 with IAPH, ICHCA continues to work closely with the latter on common initiatives, especially with the WPSP (World Port Sustainability Programme). ICHCA also participates in the "Ports Roundtable" which is a regular meeting of the port-related NGOs at IMO. The idea being to appraise each other of current initiatives, join resources where appropriate and avoid duplication of effort.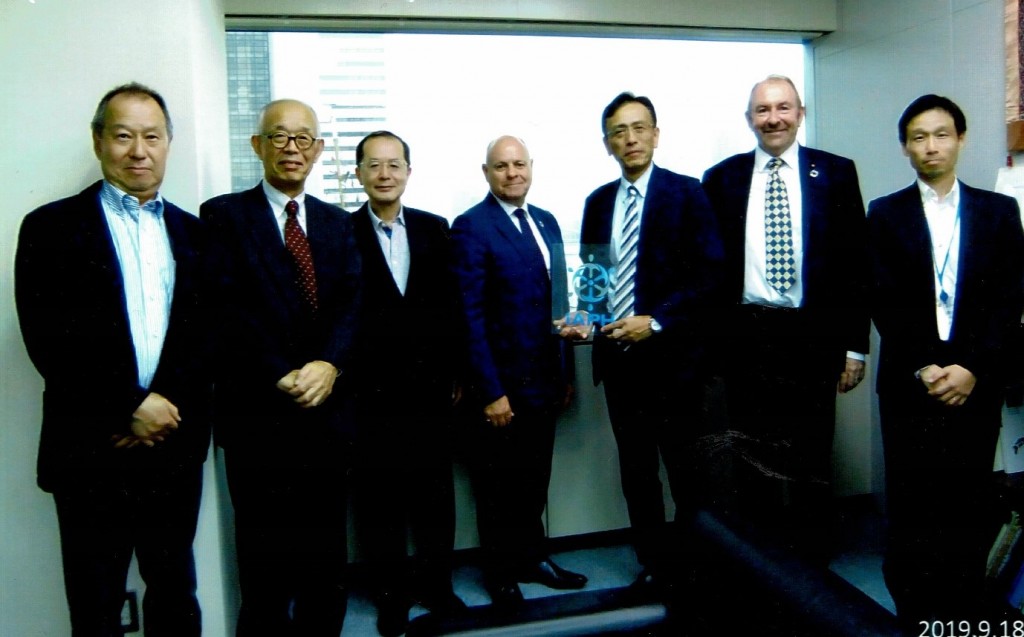 Visit of ICHCA Chairman and Head to IAPH HQ, Tokyo along with ICHCA Japan staff
Two more important MOUs were concluded last year, the first with ABTO (Association of Bulk Terminal Operators) to work on common issues.
The second is a new accord with the HSE (UK's Health and Safety Executive) to work with them on international projects.
Two senior members from the HSE Laboratory in Buxton UK, presented the thoughts behind the first such project at the Malta Conference. Charles Oakley , Head of Business Strategy and Panagiotis Stavrakakis, Head of Organisational Health and Well-Being told delegates that HSE will support the industry in trying to make sense of our incident data, understand more about the "Safety Climate" in our sector and come up with some leading indicators and measures we can take to drive the incident rate down.
2019 saw well over 85 fatalities in the ship/port interface following on from over 100 in 2018. This is by no means acceptable and we need to make a significant step change.
A free webinar on the HSE's "Health and Safety Climate Tool" is taking place on Wednesday 15 January. The outcome will be taken forward to the HSE/ICHCA Workshop in Buxton on 7 April this year.
In another new move, ICHCA is to work more closely with PSS (Port Skills and Safety) the UK's ports organisation, which has a similar role to NMSA in the USA and Canada. The new MOU will see us sharing report and incident info, attending each other's meetings, regular catch-ups between the two heads and joint working on issues of common interest.
The scene is set then for a busy 2020 as we build on these achievements. The work of the ITP's five specialist working groups also continues and this year should see some revised and new publications issued.
As always if you have any queries or require assistance please contact Amanda at secretariat@ichca.com
Richard Brough O.B.E.
Head of ICHCA International