ICHCA International has developed an extensive range of specialist publications on best practice in cargo handling operations. With more than 90 documents covering health and safety guidance, technical and operational practicalities, regulatory requirements and more, the ICHCA library represents a valuable repository of cargo handling expertise.
During all the years that I have been a member of this highly valuable group of experts, I have used many of the publications when analysing accident root causes, as well as when making safety recommendations to companies, vessels and operators in the accident investigation process.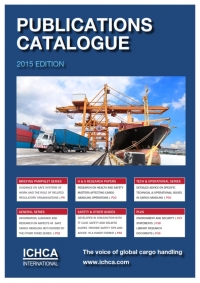 Ranging across health, safety, technical, operational, regulatory, security and environmental issues, ICHCA's authoritative cargo handling publications are researched and compiled by ISP – ICHCA's Technical Panel, in cooperation with our Technical Advisor and other qualified partners. ICHCA has also developed joint publications with TT Club, the Port Equipment Manufacturers Association (PEMA) and the Lifting Equipment Engineers Association (LEEA), among others.
The publications are grouped into eight core series