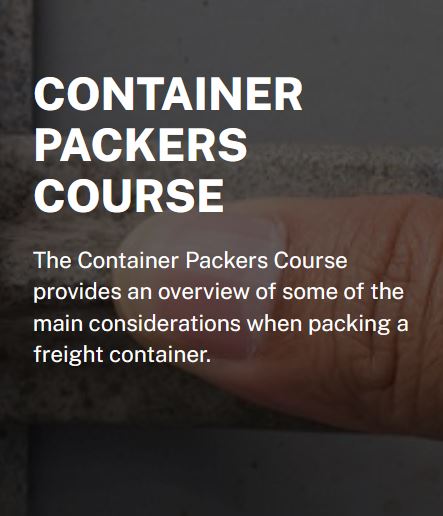 The Container Packers Course provides an overview of some of the main considerations when packing a freight container. It is cross referenced with the Code of Practice for Packing of Cargo Transport Units (CTU Code).  It is aimed at those who are involved with the packing and transporting of cargo transport units in general and freight containers in particular. There are separate elements that cover:
Considerations before packing
Planning, preparation and packing
Cargo securing
Closing and sealing the container
Once completed the student should have an understanding of the main packing and securing considerations to ensure the safe and effective transport of cargoes as covered in the CTU Code with respect to freight containers and be able to consult the CTU Code for further relevant information.
Throughout the course there are links to the CTU Code, either in the text of the main pages or in the reference bar at the bottom of the page.
There is a course assessment to test your understanding of the course material and provision of a course completion certificate.
The course is endorsed by ICHCA and the TT Club, we are part of the Cargo Integrity Group. This Group is a partnership of five global trade bodies collectively promoting high standards in the packing of cargo in freight containers and other transport units to avoid safety and environmental risks.
In striving for greater awareness and use of the CTU Code, to improve safety in the intermodal supply chain, the Cargo Integrity Group (CIG) has published its Quick Guide to the Code, and its accompanying Container Packing Checklist.  See https://ichca.com/cargo-integrity-group for access to these.
They are also available in Arabic, Chinese, French, Italian, Russian and Spanish here.
Usual course price: £60 for first 10 courses. Multiple copy discount from 11 courses upwards
ICHCA members qualify for a 15% discount – Email secretariat@ichca.com for more details