"Ever More Ambitious for ICHCA in 2023" – New Year Message from CEO Richard Steele

Success in 2022
ICHCA members came together in 2022 to deliver an outstanding array of work packages; accelerating improvements in safety and health across the industry.
With partners we launched a Warehousing White Paper, setting out principles and a practical operational checklist for dangerous goods storage. February saw hugely successful TT Club Innovation in Safety Awards and publication of a 100+ page digest of the incredible creative ideas being delivered throughout our industry. Any organisation could look at the digest and see something to inspire their next game changing idea.
Our Spring Technical Panel considered video analytics, artificial intelligence and ending workplace violence. In June we introduced monthly Technical Panel Calls; an open forum where you decide what we discuss, ensuring that we explore topics of importance to you. We also took the innovation awards content on the road to the Rotterdam TOC Safety Village raising sharing of innovation to the next level.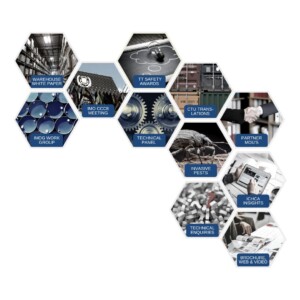 In September we led a paper on Ammonium Nitrate safety and co-sponsored another at the IMO Carriage of Cargos and Containers safety meeting during seven days of CCC activity.
We joined the Container Cleanliness Industry Advisory group, jumping off from an international conference and communicating through our 'pest week'; we began a longer-term journey on new requirements for control of invasive pest contamination.
Throughout the year, we developed our MOU network with more like-minded partner organisations. Our re-launched Safety Alert process delivered 30+ important learning examples to members who also saw over a dozen member enquiries handled. Our digest format newsletter 'ICHCA Insights' was delivered to your in-box every month. We were guest speakers at over half a dozen events and hosted our own world class webinars on Warehousing Safety and Lithium Battery fires with a complementary focussed week dedicated to battery safety.
We shared learning videos, and workplace checklists with members and updated the CTU quick guide with Cargo Integrity Group partners. We worked on UNECE draft amendments to the CTU code and preliminary development of a packer's app to reduce instances of unsafe container poor packing. Over ten publications available to you in the member's library were reviewed and updated and more of you joined the Technical Panel, the engine that drives ICHCA's technical expertise and credibility.
We took on major new workstreams in 2022 including eco-fuel operations and vessel workplace safety; developing an international standard for vessel inspection best practice to protect all involved in loading and discharge.
Keeping all this work 'on point', our new – member driven – Technical Panel Steering Group was established; setting direction for ICHCA's project teams such as the Dangerous Good working group. DG group updated the ICHCA guide to the IMDG Code (amendment 40-20) and published new guidance on transporting bagged Ammonium Nitrate in ships as well as developing an exciting first 'ICHCA Academy' IMDG Code on-line module for release in early 2023.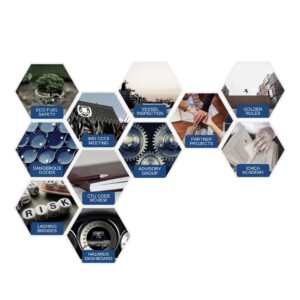 Ambitious for ICHCA's Future into 2023
As well as benefitting from all the value-add member services that we delivered to you in 2022, you will see new works in 2023. We have plans to produce communal industry safety golden rules, publish the vessel inspection standard and develop guidance for vessel turnaround planning. We aim to bring new joint projects on line in 2023 with organisations such as CINS and IAPH on topics such as battery fire safety.
In September, the IMO agreed that our proposed amendments could go to the IMDG Code drafting group; we will pursue those changes with conviction. The Dangerous Goods Group will look at new guidance on stacking of dangerous goods containers in tanks in terminals, temperature-controlled storage of organic peroxides and dangerous goods in ports including training and emergency response. We will develop a video on hidden dangerous goods and will host a campaign to address safety of lashing bridges.
This year, we built a database of severe consequence accidents from across the globe. This will be turned into a dashboard for members to draw down learning and provide the evidence-led focus for our communication and campaigns. We will also deploy the first of our ICHCA Academy on-line learning modules and building on that experience, develop new content for a learning library of cargo handling knowledge courses backed by the ICHCA brand.
With your help these are just some of the delivery areas that we will work on in 2023. More will of course emerge throughout this and future years. I am excited about what we can achieve together as the ICHCA community. There is the opportunity, will and capability to transform cargo handling and coordination to make what we do safer, healthier and smarter. Every single member of ICHCA is important to achieving that goal. I hope that you will continue to support our shared mission and renew your membership for 2023 and look forward to the opportunity of working with you to keep changing the world.
Richard Steele
Chief Executive Officer
ICHCA International