Battery Safety Week – Day 1: Introduction and Li-Ion battery risk whitepaper from TT Club, UK P&I Club and Brookes Bell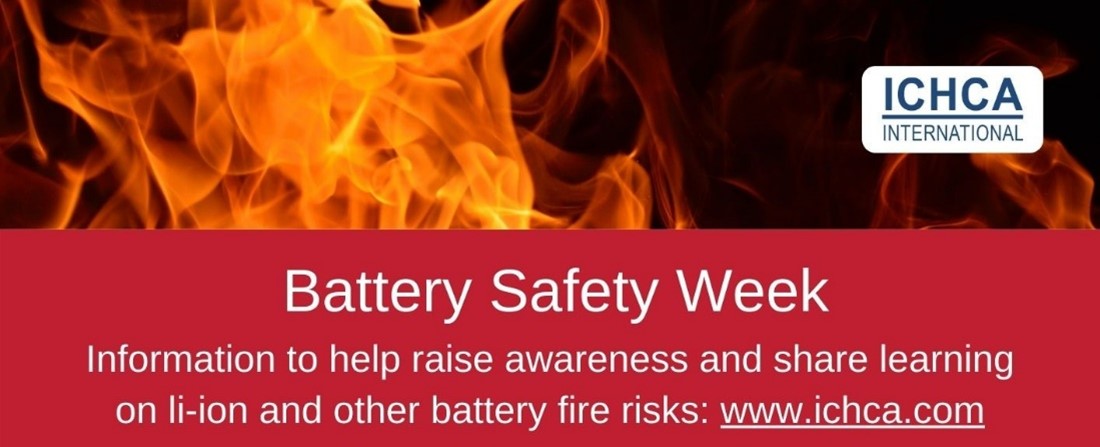 In October we hosted three world class speakers for a webinar on the risks associated with Lithium Ion batteries,  particularly risk of fire.  There is an increasing recognition of the challenges of handling such cargoes safely.
As with any potentially dangerous goods, it is possible to transport Li-Ion batteries successfully providing the  risks are understood and managed.  ICHCA is committed to raising awareness throughout the supply chain and  creating space for informed discussion amongst all stakeholders.
Throughout this week, we will highlight both questions and learning on this topic.  We look forward to hearing  from you and sharing learning for the benefit of the whole industry.
We start with a whitepaper on Li-Ion battery Risk from TT Club, UK P&I Club and scientific consultants, Brookes Bell.
The authors contend that 'despite significant fire incidents (…) the broad maritime community and logistics  supply chain remain predominantly unaware of the hazards and potential consequences when a lithium-ion  battery fails and goes into thermal runaway.'
Their paper notes that 'When a lithium-ion battery fails, the speed of failure (seconds), production of significant  quantities of toxic, corrosive and flammable gases (000's of litres) as well as the rapid development of intense  heat and explosive situations (+450°C) continue to be underestimated.'
The paper seeks to raise awareness and addresses lithium ion battery science, hazards, consequences of  mechanical, electrical and thermal abuse, current dangerous goods regulatory provisions including  recommendations for IMDG Code changes and further work, classification and declaration, Special Provisions,  packaging, emergency response and risk prevention.
Several points that particularly caught our attention from many interesting items in the report, concerned the  nature of gasses released in a li-Ion battery fire. The white paper points out that what might appear as 'smoke'  from a li-ion battery fire is in fact a cocktail of toxic and explosive gasses.

Additionally 'The old rule of going low when a fire occurs because smoke rises does not apply to battery fires due  to the different properties and densities of the vapours being produced.
Just one final example of many more points raised in the report is the substantial difference in the challenge when fighting an electric vehicle fire, compared to one in a combustion engine vehicle.

The Whitepaper on Li-Ion battery Risk from TT Club, UK P&I Club and scientific consultants, Brookes Bell is available from:-
We are listening…
We are keen to hear from you about your experience and perspectives on this topic.  Do you have comments on the material that we have shared?  Do you have links to guidance that might help others in the industry to continually improve management of this risk.
Please send any comments, ideas, links or questions to secretariat@ichca.com
Video recordings
The video recordings of our Li-Ion webinar are still available on our web site on the following links:
Captain Randall Lund, Senior Marine Risk Consultant at Allianz Risk Consulting
Lithium-Ion batteries – fire risks and loss prevention measures in shipping
https://ichca.com/captain-randall-lund-lithium-ion-battery-cargoes-fire-risks-and-emergency-response-video
Cdt. Dirk Van de Velde, CO Health Safety, Security & Environment, Mediterranean Shipping Company
Carrying and handling electric vehicles – managing operational risk
https://ichca.com/cdt-dirk-van-de-velde-lithium-ion-battery-cargoes-fire-risks-and-emergency-response-video
Thomas Jahren, Distribution Manager (Europe & Asia), Bridgehill AS
Be better prepared for electric vehicle fires
https://ichca.com/thomas-jahren-lithium-ion-battery-cargoes-fire-risks-and-emergency-response-video-now
We are grateful to all of the organisations mentioned in this release who have demonstrated health and safety thought leadership by researching and releasing material intended for the benefit of the industry and its people.  References to external links, documents and web sites remain with the copywrite owners.
ICHCA International is not responsible for, and cannot guarantee the accuracy of, information on sites that it does not manage; nor should the inclusion of a hyperlink be taken to mean endorsement by ICHCA International of the site to which it points.