ICHCA's Technical Panel is a core working body of ICHCA International, developing technical publications, guidelines and recommendations on a wide range of issues in cargo handling and operations, supporting ICHCA's Technical Advisory service to members and inputting to the Association's work at IMO and other regulatory bodies.
Four new working groups were established in 2018 following consultation with the ITP's 80+ members who represent cross-sectoral private and public-sector experience from the worlds of shipping, ports and terminals, logistics, inland transport, insurance and finance, equipment and technology.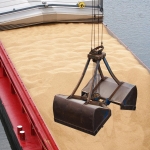 Javier Quintero Saavedra, Head of HSE of Terminales, Maritimos de Galicia
Javier Saavedra is the Head of the HSE Dept. of Terminales Maritimos de Galicia SL (TMGA). He oversees TMGAS's main business located in the ports of La Coruna and Ferrol, NW Spain. Here it operates an environmentally friendly, ATEX dry-bulk cargo terminal; a project cargo terminal catering mostly to the windmill manufacturing industry. The terminal also operates as a multi-purpose terminal for containerized steel and heavy lift cargo, as well as engaging in general stevedoring work.
Technical Panel Working Groups