Free delegate entry for up to 10 ICHCA members at Transport Events Conferences

We are delighted to announce a new benefit for ICHCA members in partnership with Transport Events. We have secured the exciting opportunity for up to 10 ICHCA Member delegates to attend each of Transport Events conferences in 2023.
Transport Events – an ICHCA member – is a full service international events company which '..owns and operates the largest annual containerised ports, shipping and transport logistics exhibition and conference trade events for Africa, The Indian Ocean Islands; The Middle East, the Black Sea; Baltic Sea and South East Asia.' Their 2023 programme features nine bespoke conferences, see the poster below.
ICHCA member free delegate places are limited to ten per conference and are available by contacting secretariat@ichca.com. This is your opportunity to attend premium conferences all included in your ICHCA membership.
If you have any questions about this member benefit, please contact Amanda at: secretariat@ichca.com.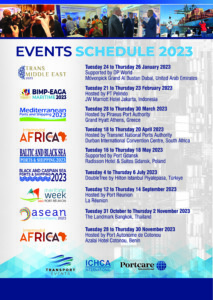 Please note that interested delegates must register at least 7 days before the start of the event.