Free delegate places for ICHCA members at BIMP-EAGA Maritime 2023, 21 – 23 February in Jakarta….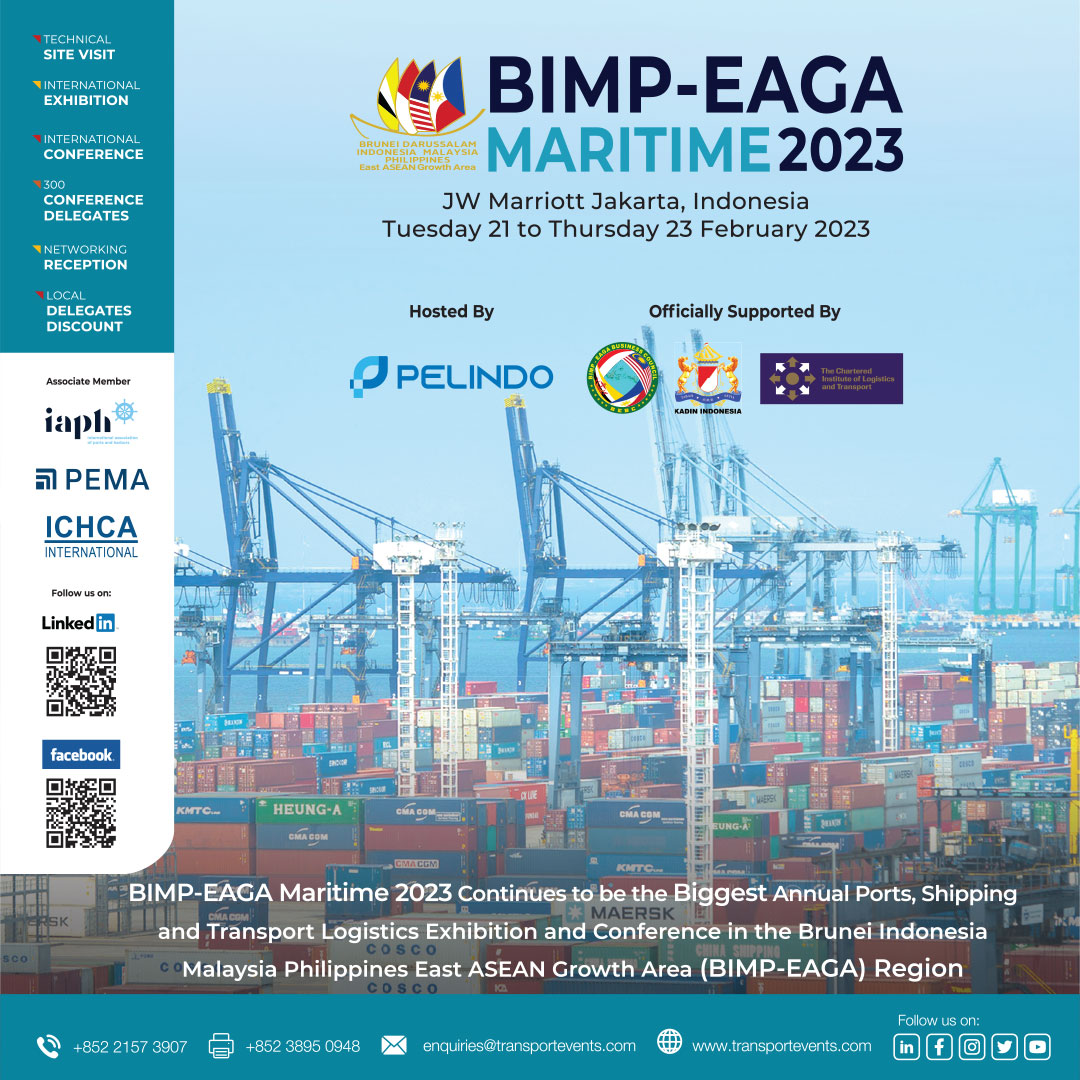 We are delighted to announce the next conference in our new-for-2023 ICHCA member benefit, in partnership with Transport Events.   We have secured the exciting opportunity for up to 10 ICHCA Member delegates to attend each of Transport Events conferences in 2023. If you would like to attend the upcoming event in Jakarta, details below, please email: secretariat@ichca.com to secure your place. We will need your confirmation of a place at least 2 weeks before the event at the latest.
BIMP-EAGA Maritime 2023 is an annual Container Ports, Shipping and Transport Logistics Exhibition and Conference trade event taking place from 21 – 23 February 2023 at the JW Marriott Hotel Jakarta, Indonesia. The event is a major highlight among the BIMP-EAGA community and is highly anticipated by those following developments in the Brunei Darussalam–Indonesia–Malaysia–Philippines East ASEAN Growth Area (BIMP-EAGA) market.
Hosted by PT PELINDO, this event is fully supported by the Indonesian Chamber of Commerce and Industry (KADIN Indonesia), BIMP-EAGA Business Council and the Chartered Institute of Logistics and Transport Indonesia.
Holding this event in Indonesia continues to promote and facilitate trade and economic development throughout the BIMP-EAGA region through transportation and logistics.
This year's themed BIMP-EAGA: BREAKTHROUGH EXCELLENCE, will feature more than 30 world-class industry leaders discussing EAGA's trade economy, market potential and innovations within EAGA ports to improve economic competitiveness.
Six sessions with a Round Table Discussion are lined up for the 2-day conference and will cover areas related to BIMP-EAGA Economic Corridors investment opportunities, success and leadership elements, sub-regional collaboration, innovations for ports infrastructure and transformation strategies within the region.
Participants will have the privilege to know about port development as well as the trade perspective from the private sector and analyse market opportunities with like-minded professionals for networking purposes.
There will be a concurrent Trade Exhibition of 40 international and local companies and sponsors showcasing port and transport-related state-of-the-art products, services and the latest technologies for ports, shipping and logistics and will be attended by 400 senior executive decision makers from leading shipping lines, shippers, cargo owners, freight forwarders, logistics companies, investors, economists, consultants, ports, port equipment and IT services suppliers.
The BIMP – EAGA Maritime 2023 host, supporting partners and look forward to having your participation at this major Ports, Shipping and Logistics Exhibition and Conference.
For further details please click here: http://transportevents.com/ForthcomingEvents.aspx