ICHCA and IAPH sign Memorandum of Understanding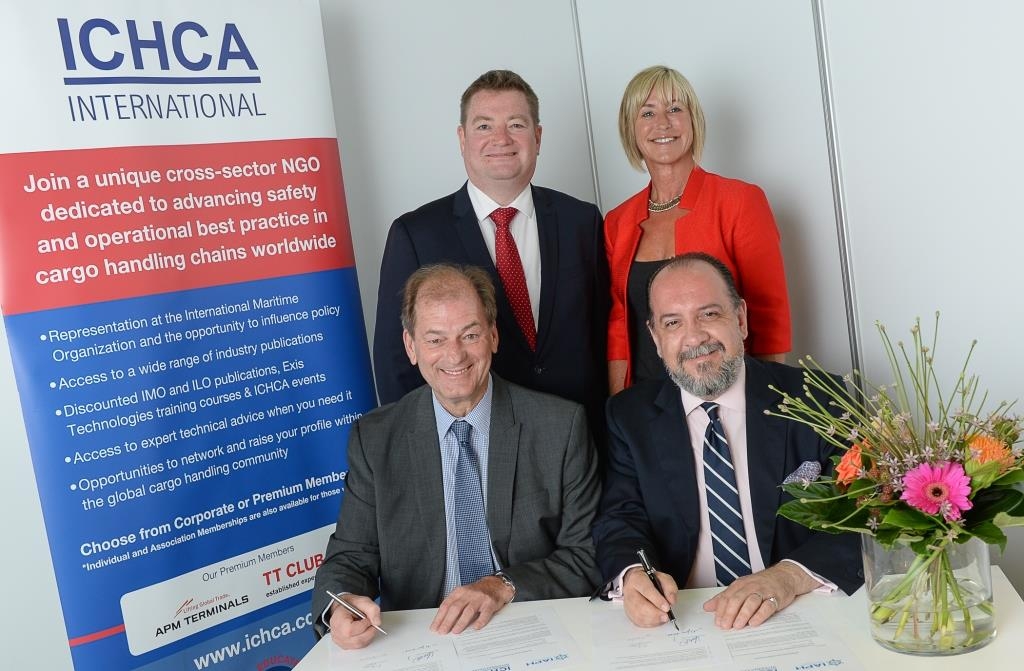 JOINT RELEASE : Rotterdam, 13th June 2018
At the Terminal Operators Conference (TOC 2018) today in Rotterdam, ICHCA International, the global NGO and membership association for cargo handling operations, technical, HSSE and risk professionals has signed a Memorandum of Understanding with the International Association of Ports and Harbors (IAPH) to pursue cooperative projects of mutual interest. This includes the sharing of the research and findings of ICHCA's Technical Panel (ITP) with the IAPH membership through its own working groups.
The ICHCA Technical Panel has recently launched four new working groups on Dangerous Goods, Digital & Innovation, Straddle Carrier Safety and Dry Bulk Cargoes. The four new working groups were established following consultation with the ITP's 80+ members who represent cross-sectoral private and public-sector experience from the worlds of shipping, ports and terminals, logistics, inland transport, insurance and finance, equipment and technology.
The MOU will enable the working groups to share their initial findings with IAPH's technical committees and working groups with common interests, all of whom have port representatives. These will then be disseminated amongst IAPH's core membership who are public port authorities, private port operators and government agencies responsible for ports. Surveys conducted in the past years show that all IAPH member ports combined handle over 60% of the world sea-borne trade in metric tonnes and over 80% of world container traffic in TEU.
ICHCA Deputy Chairman Laurence Jones commented :
"ICHCA and IAPH have worked together for many years and this MoU formalises that relationship. We look forward to working more closely together to improve safety and efficiency in the port and terminal industry."
The fast track route to testing and implementing innovations
In a major boost to the IAPH's recently-launched World Ports Sustainability Program (WPSP), the agreement effectively ensures a shorter route for testing and implementation of sustainable innovations by key equipment, technology, cargo handling and financial services providers into the world's major ports. Guided by the 17 UN Sustainable Development Goals (SDGs), the program wants to enhance and coordinate future sustainability efforts of ports worldwide and foster international cooperation with partners in the supply chain.
IAPH Managing Director and WPSP Coordinator Patrick Verhoeven concluded:
With most of the IAPH members being landlord port authorities, this MoU valorises the valuable experience and know-how of cargo handling companies in our joint ambition to demonstrate global leadership of port communities in achieving sustainable development. We also look forward to working closely with ICHCA in strengthening the voice of ports in global fora such as the IMO."
ENDS
Information for the media
For more information on this release, please contact:
Holly Thompson, Communications Officer at ICHCA International.
Tel +4420 3327 0573 | Email: holly.thompson@ichca.com
Victor Shieh, Communications Partner at WPSP
Tel: +32 473 98 08 55 | Email: victor.shieh@sustainableworldports.org
About ICHCA International
Established in 1952, ICHCA International is an independent, not-for-profit organisation dedicated to improving the safety, productivity and efficiency of cargo handling and movement worldwide. ICHCA's privileged NGO status enables it to represent its members, and the cargo handling industry at large, in front of national and international agencies and regulatory bodies, while its Technical Panel provides best practice advice and develops publications on a wide range of practical cargo handling issues.
Operating through a series of national and regional chapters – including ICHCA Australia, ICHCA Japan and ICHCA Canarias/Africa (CARC) – plus Correspondence and Working Groups, ICHCA provides a focal point for informing, educating, lobbying and networking to improve knowledge and best practice across the cargo handling chain.
www.ichca.com | www.ichca-australia.com
Follow us on Twitter @ICHCA2 | Follow us on LinkedIn www.linkedin.com/company/ichca-international
About IAPH
Founded in 1955, the International Association of Ports and Harbors (IAPH) is a not-for-profit global alliance of roughly 170 ports and 140 maritime companies and institutes representing about 90 countries. The IAPH is dedicated to fostering cooperation among ports and harbors and promoting the vital role they play in creating a peaceful, more prosperous world. Based in Tokyo and recognized as the only voice speaking for ports around the globe, the IAPH has Consultative NGO Status from the United Nations and is active in developing international trade and maritime policy. IAPH member ports handle about 80 percent of world container traffic and more than 60 percent of all international maritime trade.