ICHCA celebrates the success of our first open Technical Panel meeting!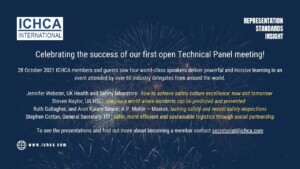 On 28 October, ICHCA members and guests saw four world-class speakers deliver powerful and incisive learning in an event attended by over 60 industry delegates from around the world.
Jennifer Webster from the UK's Health and Safety laboratory explained how to achieve safety culture excellence: now and tomorrow.  Steven Naylor, also from HSL freed us up to imagine a world where incidents can be predicted and prevented.  Ruth Gallagher, Global Head of HSE and Arun Kalam Senior HSE Lead – Terminals and Transportation, showed how A.P. Moller – Maersk have stepped up and shown industry leadership combined with practical can-do delivery.  Producing measurable improvements in lashing safety and vessel safety inspections.  Stephen Cotton, General Secretary, International Transport Workers' Federation made the conclusive case for social partnership between employers, port workers and their unions to drive safer, more efficient and sustainable logistics.
We are proud of what ICHCA has achieved and ambitious moving forward.  Our mission is to bring about positive safety change through thought leadership and tripartite – employers, workforces, partner/international bodies – working.  Our programme for the ICHCA Technical Panel, the 80+ experts that are the engine of our organisation, is being developed for the next two years.  You will see targeted working groups delivering projects decided by data and under the steer of a new advisory group.  We will put laser focus on vessel and lashing safety and on raising standards throughout the cargo handling chain.
If you were unable to see the event live, you can still see the recording and slides on our web site in our members-only area.  If you would like to find how to access these presentations and more about ICHCA membership, please e-mail secretariat@ichca.com