ICHCA publishes papers on Container Marking Codes and new IMDG Code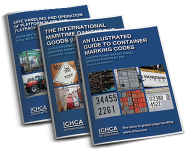 ICHCA publishes papers on Container Marking Codes and new IMDG Code
[/fusion_title]
ICHCA International, the NGO association for the global cargo handling industry, has just released the updated editions of two papers in its 'Briefing Pamphlets' series: BP #25, 'An Illustrated Guide to Container Marking Codes,' and BP #3 on The International Maritime Dangerous Goods (IMDG) Code.
Written by Michael T. Bohlman, President of Knows Maritime LLC, BP #25 details various container size and type codes found in the latest edition of ISO Standard 6346, 'Series 1 Containers – Coding, Identification and Marking,' published in 1995.
Mr. Bohlman estimates that 99.9% of the world's 17 million shipping containers fall under the definitions given in ISO Series 1. The briefing pamphlet thus provides important, practical advice on how cargo handling operations can comply with the mandatory coding.
The release of ICHCA's latest edition of BP #3 comes at a crucial time, with Amendment 37-14 to the IMO's IMDG Code coming into force on 1 January 2015. The paper, written by ISP Member Margaret Fitzgerald, provides a detailed summary of the updated IMDG Code and offers practical advice on adapting cargo-handling operations to new regulations.
Both BP #3 and BP #25 are free to download from ICHCA's website for members of ICHCA International, and available to purchase by non-members for £35. To order your copy, or to find out more information, please contact:
Helen Coffey, Membership and Events Officer
helen.coffey@ichca.com
0203 327 7560