JOINT MEDIA STATEMENT – On behalf of Container Owners Association, Global Shippers Forum, ICHCA International, TT Club, World Shipping Council: CTU Code Quick Guide now available in all six official IMO languages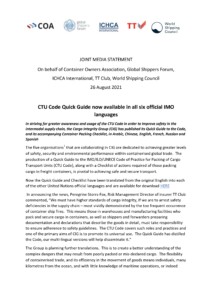 In striving for greater awareness and usage of the CTU Code in order to improve safety in the intermodal supply chain, the Cargo Integrity Group (CIG) has published its Quick Guide to the Code, and its accompanying Container Packing Checklist, in Arabic, Chinese, English, French, Russian and Spanish.
The five organisations that are collaborating in CIG are dedicated to achieving greater levels of safety, security and environmental performance within containerised global trade.  The production of a Quick Guide to the IMO/ILO/UNECE Code of Practice for Packing of Cargo Transport Units (CTU Code), along with a Checklist of actions required of those packing cargo in freight containers, is pivotal to achieving safe and secure transport.
Now the Quick Guide and Checklist have been translated from the original English into each of the other United Nations official languages and are available for download https://ichca.com/cargo-integrity-group
For full press release – Click Here