LEEA and ICHCA publish paper on the safe use of container lifting lugs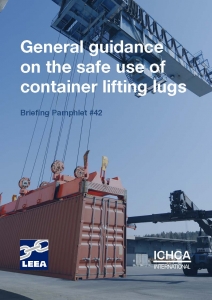 04.10.2016 – ICHCA International, the NGO association for the global cargo handling industry is delighted to partner with LEEA, a Corporate Licensed ICHCA member and the professional body for the lifting industry worldwide, in order to contribute to safe practice in the industry. To that end, the two organisations have jointly released a new addition to ICHCA's Briefing Pamphlet series, BP42, which offers general guidance on the variety of container lifting lugs available and their safe use. The new publication was written by Ben Dobbs, Technical Manager at Lifting Equipment Engineers Association (LEEA), and reviewed by Capt. Richard Brough OBE, Technical Adviser at ICHCA International. Both are active participants in ICHCA's ISP Technical Panel, which plays a key role in the association's technical research and advice programme.
When used correctly, container lifting lugs provide the user with a versatile and safe means of connecting a container to a lifting appliance in situations where it is not possible to use a container spreader or lifting frame. However, dangerous lifting practices can result if container lifting lugs are used in the wrong manner. Moreover, container lifting lugs are often confused with other fittings which are similar in construction but have been designed solely for load restraint use, and are not suitable for lifting.
Containing helpful illustration, BP42 provides information on standards and legislation and explores the various designs of the most common container lifting lugs. The publication provides advice on storage and handling, inspection, maintenance, thorough inspection and documentation and marking. The paper concludes with advice for training users on the safe use of container lifting lugs, an important part in ensuring the safety of cargo, equipment and personnel as a whole along the supply chain.
"We are delighted to announce the release of this new joint publication from ICHCA's ISP Technical Panel and LEEA," said Rachael White, head of ICHCA International's secretariat. "As the voice of the global cargo handling industry, the expertise of ICHCA's technical panel and wider membership places us in an ideal position to help raise safety awareness and standards across international cargo handling chains."
BP42 – General guidance on the safe use of container lifting lugs is part of a series of more than 90 publications produced by ICHCA International, mainly through the organisation's ISP Technical Panel. The paper is free to download from ICHCA's website to subscribers.
ENDS
Information for the media:
For more information on this release, please contact Holly Thompson, Communications Officer at ICHCA International.
Tel: +44 (0)20 3327 7560 | Email: holly.thompson@ichca.com
About ICHCA International
Established in 1952, ICHCA International is an independent, not-for-profit organisation dedicated to improving the safety, productivity and efficiency of cargo handling and movement worldwide. ICHCA's privileged NGO status enables it to represent its members, and the cargo handling industry at large, in front of national and international agencies and regulatory bodies, while its ISP Technical Panel provides best practice advice and develops publications on a wide range of practical cargo handling issues.
Operating through a series of national and regional chapters – including ICHCA Australia, ICHCA Japan and ICHCA Canarias/Africa (CARC) – plus Correspondence and Working Groups, ICHCA provides a focal point for informing, educating, lobbying and networking to improve knowledge and best practice across the cargo handling chain.
www.ichca.com | www.ichca-australia.com
Follow us on Twitter @ICHCA2   |   Follow us on LinkedIn www.linkedin.com/company/ichca-international
About LEEA
The Lifting Equipment Engineers Association (LEEA) is established across the globe as the leading representative body for all those involved in the lifting industry worldwide.
We are the respected and authoritative representative body for our Members who work in every aspect of the industry, from design, manufacture, refurbishment and repair, through to the hire, maintenance and use of lifting equipment.
Our Association has played a key role in this specialised field for over seventy years, from training and standards setting through to health and safety, the provision of technical and legal advice, and the development of examination and licensing systems.
We represent our Members at the highest levels across a range of both public and private bodies, including various government departments, as well as nationally and internationally recognised professional and technical institutions.
Holly Thompson
2022-12-14T15:27:58+00:00