Bidfreight Port Operations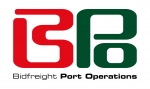 Bidfreight Port Operations is one of the largest providers of in-port logistics in South Africa with operations in every commercial cargo port in South Africa. Our areas of expertise include warehousing, stevedoring, transportation and terminal operating services.
BPO's understanding of our clients' needs is based on one hundred and fifty years of port operations experience in Africa, giving us a solid foundation of knowledge from which to offer an integrated port operations solution to customers importing or exporting in Southern Africa. We pride ourselves on unlocking logistics efficiencies and providing our customers with a hassle free, cost effective way of managing port service requirements.
BPO have built our reputation on delivering holistic solutions that ensure the movement and storage of client goods is managed professionally and timeously and we continually strive to meet and surpass the values encompassed in our motto: In place. On time.
---
Other Corporate members include
---