Member Spotlight: GCT Deltaport goes the extra mile to support seafarers in quarantine.
We were pleased to hear this story about how a port took it upon themselves to show extra kindness to a vessel crew caught up in COVID quarantine.  Congratulations to GCT Deltaport for reminding us all of the importance of valuing people throughout the cargo handling supply chain.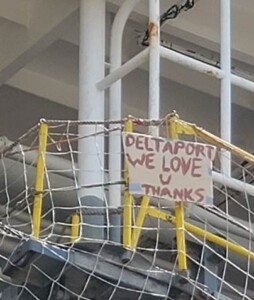 GCT Deltaport and Quarantine of Vessel alongside berth 
After over a year of working through the pandemic, GCT Canada, operators of GCT Vanterm and GCT Deltaport in the Port of Vancouver, had quickly adapted its processes and procedures. The terminals above and beyond measures included increased sanitation and PPE, physical distancing, and following all public health guidelines to ensure safe and healthy workplaces and fluid terminals. However, the ongoing challenges the pandemic has brought to the maritime industry, particularly seafarers, are numerous.
These challenges were again at the forefront in late June when GCT Deltaport was advised to halt all operations on a vessel due to a COVID-19 case among the crew. Based on the guidance of the Public Health Agency of Canada, quarantine measures were put in place. Additional crew members tested positive in the following days, and quarantine requirements would have meant the vessel was stuck at berth for three weeks to ensure enough fit crew members to sail safely. The GCT operations team, government and health agencies, ship agents, owners, the crew, and others worked diligently to determine a solution. The vessel was eventually granted permission from its flag nation to bring in a new crew to enable its safe departure and the well-being of those onboard.
During the roughly two weeks that the vessel was alongside GCT Deltaport, the GCT operations team grew increasingly concerned for the Seafarers. Everyone was determined to help make the stay more comfortable. After finding out what supplies the crew needed aboard, the team quickly jumped into action. GCT purchased the requested necessities and also decided to include pre-paid sim cards for the Seafarers. These cards helped the crew connect with family and friends at home and even catch up on a bit of soccer action, helping to pass the time. Although a small gesture, the GCT team was happy to make some positive impact under difficult circumstances. Another reminder that kindness and communication go a long way during these times.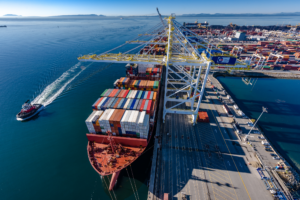 Headquartered in Vancouver, BC, GCT Global Container Terminals Inc. operates four Green Marine certified terminals in two principal North American ports. GCT USA on the East Coast operates two award-winning facilities: GCT New York in Staten Island, NY, and GCT Bayonne in Bayonne, NJ. GCT Canada operates two gateway terminals on the West Coast: GCT Vanterm and GCT Deltaport in Vancouver and Delta, BC. These two West Coast terminals provide customers and ocean carriers with reliable and convenient access to all the major Asia-Pacific trade lanes.
 If any of our members have stories of 'putting people first' that they would like us to highlight as a "Member Spotlight" please email secretariat@ichca.com