Press Release: Industry Bodies Joint Initiative to Tackle Safety of Dangerous Goods Storage & Transport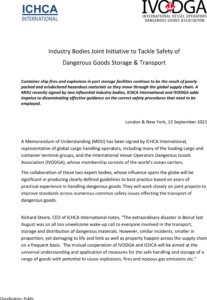 Industry Bodies Joint Initiative to Tackle Safety of Dangerous Goods Storage & Transport
Container ship fires and explosions in port storage facilities continue to be the result of poorly packed and misdeclared hazardous materials as they move through the global supply chain. A MOU recently signed by two influential industry bodies, ICHCA International and IVODGA adds impetus to disseminating effective guidance on the correct safety procedures that need to be employed.
A Memorandum of Understanding (MOU) has been signed by ICHCA International, representative of global cargo handling operators, including many of the leading cargo and container terminal groups, and the International Vessel Operators Dangerous Goods Association (IVODGA), whose membership consists of the world's ocean carriers.
The collaboration of these two expert bodies, whose influence spans the globe will be significant in producing clearly defined guidelines to best practice based on years of practical experience in handling dangerous goods. They will work closely on joint projects to improve standards across numerous common safety issues affecting the transport of dangerous goods.