International Maritime Organization's (IMO) online event to mark the 2021 World Maritime Day on Thursday, 30 September 2021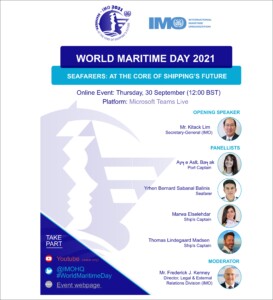 World Maritime Day is an official United Nations international observance which takes place every year at the end of September. It is organized by IMO and aims to increase awareness on the importance of shipping safety, maritime security and the marine environment, and annually emphasizes a particular theme relevant to IMO's work, which for 2021 is Seafarers: at the core of shipping's future.
To address this theme, the online event will cover four main thematic areas, mainly: the Crew Change Crisis; Diversity, the Environment; and Safety.  The panel will also look into how the COVID-19 pandemic has made this year's theme even more relevant and the challenges it has presented for shipping and the well-being of seafarers.
We are pleased to announce that the panel will be composed of the following seafarers:
Ayşe Aslı Başak, Port Captain;
Yrhen Bernard Sabanal Balinis, Seafarer;
Marwa Elselehdar, Ship's Captain; and
Thomas Lindegaard Madsen, Ship's Captain.
The debate will be moderated by Mr. Frederick J. Kenney, Director, Legal Affairs and External Relations Division, and participants will be able to submit questions during the webinar through the Live event Q&A window.
This event will be held on Thursday, 30 September 2021, from 12:00 p.m. – 1:00 p.m. (BST (London, United Kingdom) in English only.
Follow link for further information: https://ichca.com/wp-content/uploads/2021/09/WMD-online-event-flyer_2021-new.pdf
Follow this link to the World Maritime Day 2021 online event via Microsoft Teams: https://bit.ly/3odhNXe
Follow link for youtube: https://www.youtube.com/user/imohq
Follow link for webpage: https://www.imo.org/en/About/Events/Pages/World-Maritime-Theme-2021.aspx