"Ambitious for ICHCA's future" – New Year Message from CEO Richard Steele

In only the last six months, ICHCA's members have worked together to deliver multiple work packages; accelerating improvements in safety and health across the industry.
We are especially proud of the delivery with our partners of a Warehousing White Paper, which sets out principles for storage of dangerous goods and includes a practical operational checklist. Our Technical Panel meeting in October was attended by over 60 participants and addressed topics such as AI prediction of accidents and inspection of vessels for port worker safety.  We saw a record entry year for our TT Club sponsored Innovation in Safety Awards and will be bringing the rich ideas to the membership in the new year. Translations of the CTU Packing Quick Guide were published in 7 languages to improve access and its use.
We co-sponsored 5 papers at the IMO Carriage of Cargos and Containers safety meeting and signed 3 MOU's with like-minded partner organisations. Our container labelling publication was updated and our Safety Alerts process re-launched. Expanded member services introduced a new monthly digest newsletter 'ICHCA Insights' – coming to your in-box on the second Thursday of the month.  And our Technical Enquiries service opened to members through 'living' pamphlets capturing responses to member questions that can be updated quickly as new information emerges.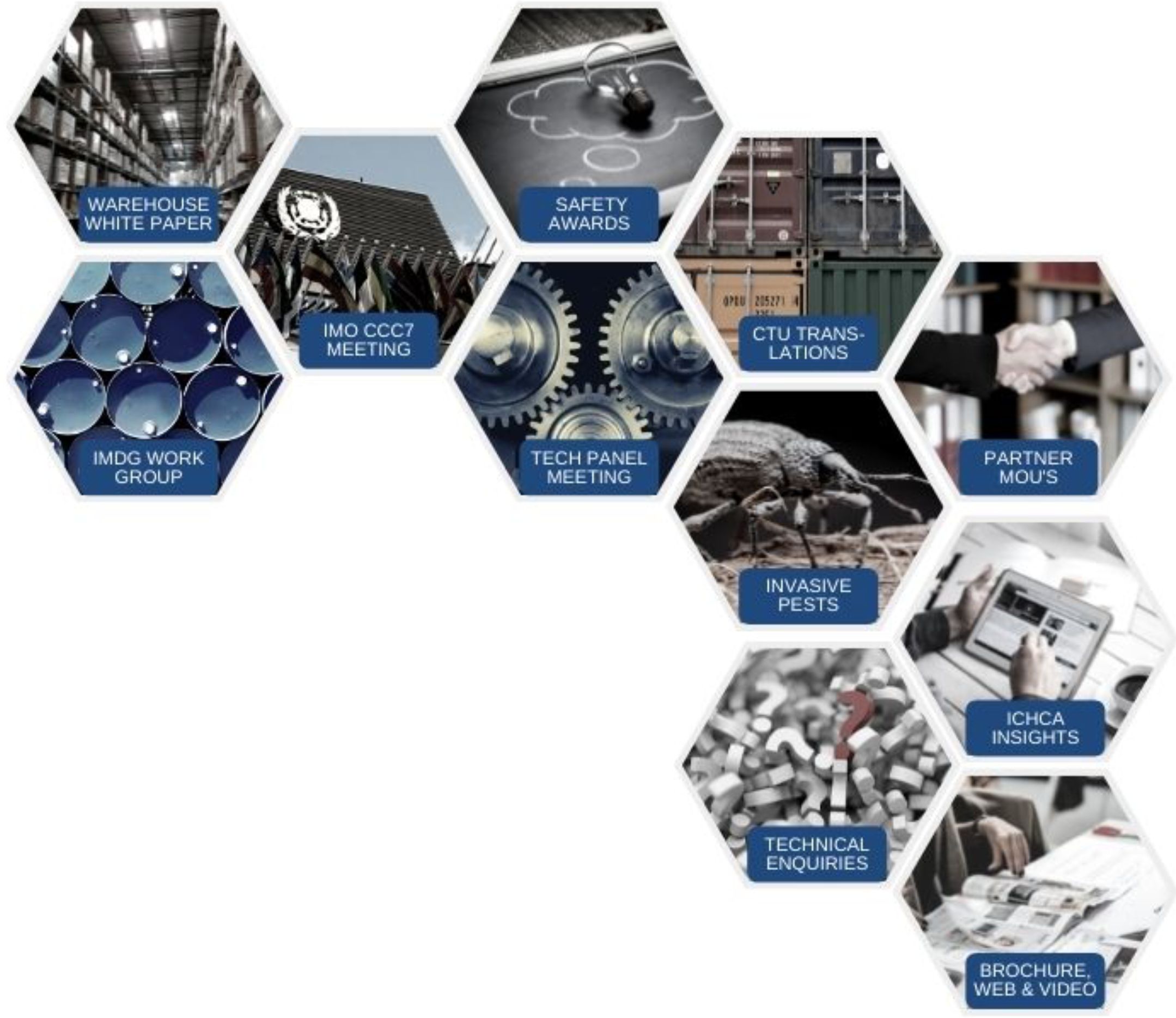 We will take on new workstreams in 2022.  Three key project areas will be: new/eco-fuel operations and safety; developing agreed vessel inspection best practice to protect all involved in loading/discharge and partner guidance on abandoned/longer-stay hazardous cargoes.
A new ICHCA Advisory Group will set the direction and programme of work for the Technical Panel. The IMDG working group will finish updating the ICHCA guide to the IMDG Code (amendment 40-20) and guidance on transporting bagged Ammonium Nitrate. We will participate in the CTU Code informal review process and once again actively contribute at IMO including at CCC8 in September.
Our work with the Cargo Integrity Group will include better understanding and information on cargoes of concern. We will continue to campaign for recognition and support of quay workers as 'key' workers. Lifting persons guidance will be completed and the ICHCA publications review will get underway. We will produce an on-line learning module as proof-of-concept for the ICHCA Academy; a future library of cargo handling knowledge courses backed by the ICHCA brand.
These are just some of the delivery areas that we will work on with your help in the new year. More will of course emerge throughout this and future years. I am excited about what we can achieve together as the ICHCA community. The opportunity is there to transform cargo handling and coordination. There is both the will and the capability in our industry to make what we do safer, healthier and smarter. Every single member of ICHCA is important to achieving that goal. I will never take your membership for granted, but I do hope that you will continue to support our shared mission and renew your membership for 2022. I look forward to the opportunity of working with you to change the world.
Richard Steele
Chief Executive Officer
ICHCA International