ICHCA seminar will look at new business models to improve port-hinterland connectivity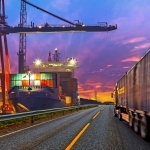 ABP, APM Terminals, Duisport, Ferrmed, TT Club and UNECE join a cross-party ICHCA seminar in The Hague on 17 April to map out options for minimising risk and maximising efficiency in port-hinterland cargo flows
27.03.2018 – Ultra-large container ships with so-called 'pit-stop calls' and mega-shipping alliances have not only created challenges on the waterside of port operations but also at the port-hinterland interface and for connecting inland logistics. Bigger peak volumes from mega-ships and alliance calls mean many more trucks and barges converging simultaneously on ocean and inland ports plus higher demands on rail terminals and networks. Major ports in Europe, Asia and the USA have all experienced significant landside congestion as a result, increasing safety, security and environmental risks and negatively impacting cargo flow efficiency.
Taking place in The Hague, 17 April, Port-Hinterland Connectivity is the latest in a series of practical one-day seminars from ICHCA International, the global NGO and membership association for cargo handling operations, technical, HSSE and risk professionals, providing a timely chance to assess key risks and responses, including the role of new technology and new business approaches to make real progress. The seminar will be followed by the 79th meeting of ITP, ICHCA's Technical Panel.
Speakers at the seminar include Roy de Haan, Account Manager Landside for APM Terminals. The global container terminal operator has recently announced that it will focus on and invest more in managing port-landside cargo flows and providing services for shippers, as part of parent company Maersk's vision of becoming a global container logistics integrator. APM Terminals currently chairs the ITP and will host the panel meeting on 18 April.
Also presenting will be Prof. Thomas Schlipkoether, Member of the Executive Board of the Duisburger Hafen AG (COO/CTO), Head of Duisburg Port Authority and Chairman of the Managing Boards of Duisport Facility Logistics, Duisport Rail and Duisport Consult. Dusiport is one of the world's largest and most advanced inland multimodal ports, serving both ocean trade and, increasingly, New Silk Road rail trade from China. Prof. Schlipkoether will discuss future trends in hinterland cargo flows and outline how Duisport addresses the challenges of managing complex inbound and outbound traffic via multiple modes.
Delegates will also hear from ABP – Associated British Ports, UNECE – the United Nations Economic Commission for Europe, rail association Ferrmed, consultant Royal Haskoning DHV, insurer TT Club, terminal technology provider Yardeye GmbH, multimodal network operator Combi Terminal Twente and other key representatives throughout the cargo chain. The morning session will look at overarching issues with cargo flow on the landside and future opportunities to improve operations while the afternoon will hone in on potential tech solutions that can be harnessed to ease the flow of cargo and minimise current safety, security and environmental risks at the port-hinterland interface.
"Improving connectivity between port and hinterland is a critical aspect of ensuring the integrity of the entire global cargo chain and ICHCA is pleased to bring stakeholders together for a productive exchange of views on current challenges and future visions", said Rachael White, CEO, ICHCA International Secretariat.
"We have a fantastic line-up of inspirational speakers this year at the seminar, followed by a day of practical discussions with our Technical Panel where we will kick off three new working groups. I am excited about this and look forward to seeing our industry colleagues in The Hague," added Wouter de Gier, APM Terminals' Global Head of Safety, Environment & Performance Management and Chair of the ICHCA Technical Panel.
For more details on the seminar and to register, go to: https://ichca.com/port-hinterland-connectivity-seminar.
ENDS
Information for the media
For more information on this release, and to discuss media partnerships and press passes for the seminar, please contact Holly Thompson, Communications Officer at ICHCA International.
Tel +4420 3327 0573 | Email: holly.thompson@ichca.com
About ICHCA International
Established in 1952, ICHCA International is an independent, not-for-profit organisation dedicated to improving the safety, productivity and efficiency of cargo handling and movement worldwide. ICHCA's privileged NGO status enables it to represent its members, and the cargo handling industry at large, in front of national and international agencies and regulatory bodies, while its Technical Panel provides best practice advice and develops publications on a wide range of practical cargo handling issues.
Operating through a series of national and regional chapters – including ICHCA Australia, ICHCA Japan and ICHCA Canarias/Africa (CARC) – plus Correspondence and Working Groups, ICHCA provides a focal point for informing, educating, lobbying and networking to improve knowledge and best practice across the cargo handling chain.
www.ichca.com | www.ichca-australia.com
Follow us on Twitter @ICHCA2 | Follow us on LinkedIn www.linkedin.com/company/ichca-international