IMO Awards Ceremony IMO Headquarters on Monday, 6 December 2021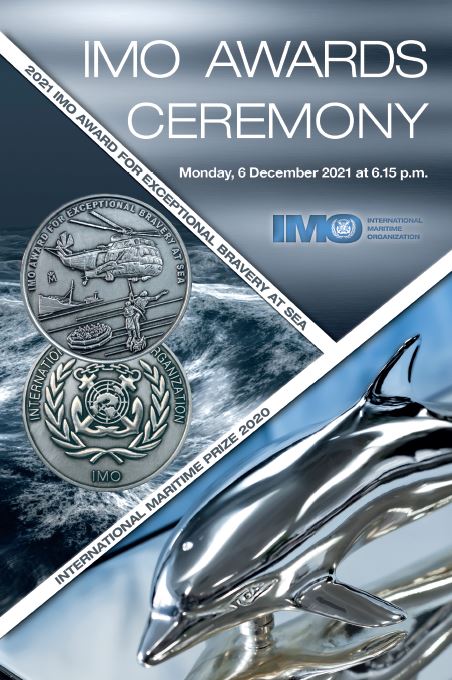 Congratulations! To IMO award recipients Mr. Paul Sadler, International Maritime Prize 2020 and Mr. Tran Van Khoi, Exceptional Bravery at Sea 2021
At its 125th session in July 2021, the Council of the International Maritime Organization unanimously decided that the International Maritime Prize for 2020 be awarded to Mr. Paul Sadler, nominated by the Government of the United Kingdom of Great Britain and Northern Ireland and the International Association of Classification Societies.
The Council also endorsed the decision of the Panel of Judges that, among the 37 candidates nominated by 23 Member States and 4 non-governmental organizations in consultative status with IMO, Mr. Tran Van Khoi, Search and Rescue Officer of the Regional Maritime Search and Rescue Coordination Center No.II, Viet Nam Maritime Administration, nominated by Viet Nam, should receive the 2021 IMO Award for Exceptional Bravery at Sea.
In addition, the Council agreed that Certificates of Commendation in recognition of meritorious services rendered should be awarded to recipients nominated by Australia, China, India, Russian Federation, Sri Lanka, Turkey, United States of America and the International Transport Workers' Federation.  These honours will be presented at a special IMO Awards Ceremony to be held at IMO Headquarters on Monday, 6 December 2021, at the end of the first day of the thirty-second regular session of the Assembly. It will start at 6.15 p.m. and will be followed by a reception. For those wishing to attend the ceremony, please proceed to the Main Hall and be seated by no later than 6.10 p.m.
In addition, the ceremony will be live streamed from 6.15 p.m. at https://streaming.imo.org