Press Release: Cargo Integrity Group to launch its CTU Code Quick Guide in Italian at Genoa Shipping Week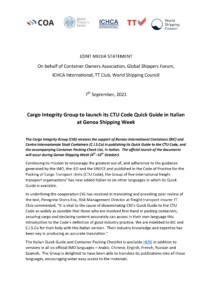 The Cargo Integrity Group (CIG) receives the support of Bureau International Containers (BIC) and Centro Internazionale Studi Containers (C.I.S.Co) in publishing its Quick Guide to the CTU Code, and the accompanying Container Packing Check List, in Italian.  The official launch of the documents will occur during Genoa Shipping Week (4th–10th October).
Continuing its mission to encourage the greatest use of, and adherence to, the guidance generated by the IMO, the ILO and the UNECE and published in the Code of Practice for the Packing of Cargo Transport Units (CTU Code), the group of five international freight transport organisations has now added Italian to six other languages in which its Quick Guide is available.
For full press release please CLICK HERE
For further information click here: https://ichca.com/cargo-integrity-group