Technology can drive port safety but staff training and buy-in are critical to safe working practices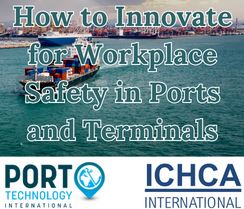 Advances in technology, such as in drivers' cabs has improved port worker safety substantially according to speakers on the port safety webinar jointly hosted by the International Cargo Handling Coordination Association (ICHCA) and Port Technology International.
The webinar, entitled How to Innovate for Workplace Safety in Ports and Terminals discussed key issues around workforce safety. The industry figures speaking where in agreement that technological innovation must be accompanied with buy-in from all port users and stakeholders is critical to keep all users safe.
ICHCA CEO Richard Steele told attendees that there had been 354 shore-based fatalities, including 349 port workers and 20 truckers globally since the year 2000. This made it essential for the cargo industry to keep on proactively searching for ways to improve health and safety; building on what has worked and looking for new ways to address risks.
Steele commented: "The key thing that industry can do is to agree common good practice and then act as champions, role modelling those good values and creating expectation of standards across the industry."