ICHCA's Technical Panel is a core working body of ICHCA International, developing technical publications, guidelines and recommendations on a wide range of issues in cargo handling and operations, supporting ICHCA's Technical Advisory service to members and inputting to the Association's work at IMO and other regulatory bodies.
Four new working groups were established in 2018 following consultation with the ITP's 80+ members who represent cross-sectoral private and public-sector experience from the worlds of shipping, ports and terminals, logistics, inland transport, insurance and finance, equipment and technology.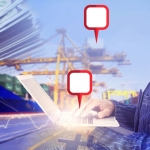 Stephan Stiehler, Independent Consultant
Stephan Stiehler has more than 10 years' experience in the international port and port equipment industry as well more than 20 years' experience in the intelligent sensor industry. In June 2017 he started his own company, Stiehler Consulting, for International Ports & Cranes strategic activities and at the same time he was appointed at Duisport (Duisburger Hafen AG) to oversee ports' strategic activities in sensor solutions for safety and automation as well of digitalization. From 2007 – 2017, he worked at SICK AG the Strategic Industry Manager to develop and establish port & crane safety and automation solutions with international customers of ports and port equipment. Stephan is also Deputy Chairman of ICHCA's Technical Panel and is actively involved in PEMA.
Technical Panel Working Groups