ICHCA Technical Panel: 10 Days to Go … Don't miss out, register for the ICHCA Technical Panel Meeting today!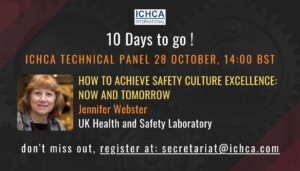 Only 10 Days to go!  … don't miss the chance to attend our first open invitation ICHCA Technical Panel meeting on 28 October.  This is your opportunity to see the four world-class webinar sessions that we have lined up for you.
Today's spotlight, session 1: How to achieve safety culture excellence: now and tomorrow.  Delivered by Jennifer Webster, one of the UK Health and Safety Laboratory's top specialists.
Most of us recognise the relationship between a positive safety culture and good health and safety performance.  But safety culture is a combination of the shared values, beliefs, and habitual working practices that influence human behaviour.  So, where do you begin?  How do you engage with people more effectively and inspire safety leadership?  Learn about the science of safety culture, the HSE ASCENT model and experiences from other industries.
We look forward to seeing you on the 28th.  To register for this free event, please email secretariat@ichca.com – we guarantee that you will learn something new!