Safety Alert: Collapse of trailer legs

What happened: 
The legs on a freestanding trailer collapsed during routine loading operations. 
Key findings:
The landing gear of the trailer had been overextended, causing it to become unstable during loading.
Recommendations made: 
A number of recommendations have been made and implemented at the port since this incident, including a toolbox talk with operators, review of alternate support methods for free standing trailers and a new trailer inspection check list for inspection both before and after loading.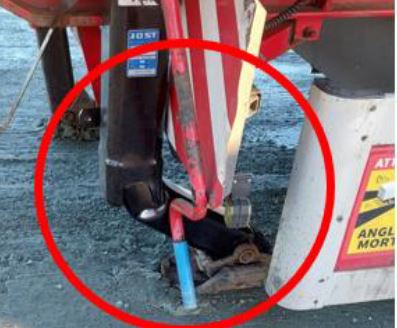 ICHCA International is committed to helping industry to learn lessons fast, learn them once and make sure that they stay learnt.  This information is intended to provide all organisations in the cargo supply chain with the opportunity to consider the events and to review and adapt their own health and safety control measures to proactively prevent future incidents.
We are grateful to PSS for providing the details and Peel Ports for raising awareness.  We acknowledge their commitment to sharing learning to benefit others.  If you have similar operations, please share this information with managers, operatives and any potentially affected third parties as appropriate.  Please also review any of your relevant operations for similar hazardous conditions, risks, and controls.  Learning content like this is highly valuable as it is based on real-world experience.  We encourage everyone with publishable information about incidents to send it to us, so that we can raise awareness across the whole industry.  Please contact us at secretariat@ichca.com; sharing your insight could save a life or prevent injury.