ICHCA Technical Panel: 7 Days to Go … Don't miss out, register for the ICHCA Technical Panel Meeting today!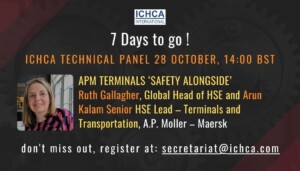 Only 7 Days to go!  … don't miss the chance to attend our first open invitation ICHCA Technical Panel meeting on 28 October.  This is your opportunity to see the four world-class webinar sessions that we have lined up for you.
Today's spotlight, session 3: APM Terminals 'Safety Alongside'. Delivered by Ruth Gallagher, Global Head of HSE and Arun Kalam Senior HSE Lead, Terminals and Transportation, A.P. Moller – Maersk
With 22,000 employees moving 35.1m TEU annually across 76 operating port facilities, APM Terminals understands the vital importance of getting safety right.  Safety Alongside is APM Terminals strategic focus addressing vessel alongside operations including lashing, vessel standards, vessel inspection processes and supporting App technology.  See what industry leadership looks like at APM Terminals and how by working together, the industry can further raise safety standards.
We look forward to seeing you on the 28th.  To register for this free event, please email secretariat@ichca.com – we guarantee that you will learn something new!