New name, new leadership and new working groups for ICHCA Technical Panel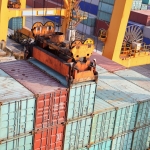 Meeting for the 79th time on 18 April under a new chair and vice chair, the recently-renamed ICHCA Technical Panel will launch three new working groups to address key issues in cargo handling and operations
26.03.2018 – ICHCA International, the global NGO and membership association for cargo handling operations, technical, HSSE and risk professionals, is set to launch three new working groups on Dangerous Goods, Digital & Innovation and Straddle Carrier Safety. The new groups will form part of the recently-renamed ICHCA Technical Panel (ITP), which meets for the 79th time on 18 April in The Hague, hosted by APM Terminals.
The meeting will be led by Wouter de Gier, APM Terminals' Global Head of Safety, Environment & Performance Management, who took over as ITP Chair last October, succeeding Jan Boermans, Regional HSSE Director Europe and Russia for DP World. Mr. de Gier will be joined by new Panel Vice Chair Stephan Stiehler, Senior Consultant, Duisport Group and Independent Consultant – International Ports & Cranes, who succeeds container freight safety and security consultant Bill Brassington.
Originally known as the International Safety Panel and more recently as the ISP Technical Panel, ITP is a core working body of ICHCA International, developing technical publications, guidelines and recommendations on a wide range of issues in cargo handling and operations, supporting ICHCA's Technical Queries service to members and inputting to the Association's work at IMO and other regulatory bodies.
The three new working groups were established following consultation with the ITP's 80+ members who represent cross-sectoral private and public-sector experience from the worlds of shipping, ports and terminals, logistics, inland transport, insurance and finance, equipment and technology. Simultaneously, ITP is working and collaborating with industry partners on new and revised publications covering safety issues in container, ro-ro and steel operations, plus a new Code of Practice on Lifting Personnel with Work Cages.
ITP meets one day after an ICHCA seminar on Port-Hinterland Connectivity in The Hague looking at how to minimise risk and maximise efficiency in landside logistics. The day will feature presentations from multiple stakeholders and will include a segment dedicated to new technology solutions that could be harnessed to improve efficiencies and minimise the current risks to safety, security and the environment. Speakers will include Associated British Ports, APM Terminals and Duisport.
"We have a fantastic line-up of inspirational speakers this year at the seminar, followed by a day of practical discussions with our Technical Panel where we will kick off the three new working groups," said ITP Chair Wouter de Gier. "I am excited about this and look forward to seeing our industry colleagues in The Hague."
The 79th Technical Panel Meeting is free to attend for Technical Panel members, ICHCA members and invited guests. Those wishing to attend the meeting can select the option when booking for the Port-Hinterland Connectivity Seminar via this link.
ENDS
Information for the media
For more information on this release, and to discuss media partnerships and press passes for ICHCA's Technical Seminar on 17 April in The Hague, please contact Holly Thompson, Communications Officer at ICHCA International.
Tel +4420 3327 0573 | Email: holly.thompson@ichca.com
About ICHCA International
Established in 1952, ICHCA International is an independent, not-for-profit organisation dedicated to improving the safety, productivity and efficiency of cargo handling and movement worldwide. ICHCA's privileged NGO status enables it to represent its members, and the cargo handling industry at large, in front of national and international agencies and regulatory bodies, while its Technical Panel provides best practice advice and develops publications on a wide range of practical cargo handling issues.
Operating through a series of national and regional chapters – including ICHCA Australia, ICHCA Japan and ICHCA Canarias/Africa (CARC) – plus Correspondence and Working Groups, ICHCA provides a focal point for informing, educating, lobbying and networking to improve knowledge and best practice across the cargo handling chain.
www.ichca.com | www.ichca-australia.com
Follow us on Twitter @ICHCA2 | Follow us on LinkedIn www.linkedin.com/company/ichca-international