Battery Safety Week – Roundup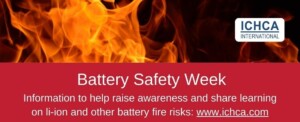 Last week, we continued to raise awareness of the potential risks associated with the transport of batteries – particularly but not exclusively Lithium Batteries. Our goal is to help those handling batteries themselves or cargos (such as electric vehicles) that contain batteries, to have the best awareness of the risks and learning from across the industry. As we said at the outset, all kinds of recognised dangerous goods can be safely handled and transported if the risks are known and managed.
Our sector has embraced renewable energy in order to deliver to the world. Batteries are a key component in reducing worldwide carbon emissions. Handling and carriage of batteries is part of the complex problem solving that the cargo industry does every day. Whilst we highlighted some incidents to give a clear sense of the potential consequences if things go wrong, throughout the week we also saw the work of many stakeholders contributing to raising awareness and improving learning.
In case you missed the posts themselves, here is a summary of what was covered and links to follow to the web pages.
Lithium Ion Battery Risk Whitepaper from TT Club, UK P&I Club and Brookes Bell.
The paper addresses lithium ion battery science, hazards and consequences of  mechanical, electrical and thermal abuse.  It also considers dangerous goods regulatory provisions including IMDG Code change recommendations, classification and declaration, Special Provisions,  packaging, emergency response and risk prevention.
LINK: https://www.ttclub.com/news-and-resources/publications/lithium-batteries-whitepaper
Guidance on Li-Ion Fires from Fire Industry Association
Though not directed at the cargo supply chain per se, this guidance provides interesting background.  It discusses gas detection (potential early means of warning), fire detection and various suppression and extinguishing approaches, including: Ÿ fixed and  gaseous fire extinguishing systems  Ÿ aerosol, mist, sprinkler, deluge & foam Ÿ wetting agents Ÿ aqueous vermiculite dispersion Ÿ powder systems  Ÿ oxygen reduction systems Ÿ portable fire extinguishers
LINK: https://www.fia.uk.com/news/guidance-on-li-ion-battery-fires.html
Lithium-ion batteries:  Fire risks and loss prevention measures in shipping, Allianz Risk Consulting Bulletin
Addresses battery fire science and hazards as well as identifying four important loss prevention measures: Ÿ Choose a reputable manufacturer Ÿ Check the battery's state of charge (ideally between 30% and 50% depending on the battery) Ÿ Beware of short circuits (if short circuit heat can not dissipate, ignition thermal runaway or an explosion can occur Ÿ Follow packing instructions and train your staff.
LINK: https://www.agcs.allianz.com/news-and-insights/news/lithium-ion-batteries.html#:~:text=The%20risk%
Failure to Properly Disconnect and Secure Vehicle Batteries Led to Fire Aboard Vehicle Carrier Höegh Xiamen, US National Transportation Safety Board.
This accident investigation report provides the kind of forensic detail that is to be expected of national agencies.  In short, the 2020 fire on board the roll-on/roll-off cargo vessel Höegh Xiamen injured 9 firefighters, took 9 days to extinguish, destroyed 2420 used vehicles and resulted in the scrapping of the vessel.  The total loss was $40 million. Probable cause: an electrical fault from an improperly disconnected battery in a used vehicle on a cargo deck which happened because vehicle battery securement procedures were not being followed.
LINK: https://www.ntsb.gov/investigations/Pages/DCA20FM020.aspx
Lithium Battery Guide for Shippers: A Compliance Tool for All Modes of Transportation, US Department of Transportation, rev. Sep 2021
This US compliance resource aims to assist shippers to safely package lithium cells and batteries for transport by all modes of transportation.  The guide provides ten scenarios outlining the applicable requirements that a shipper must follow to ship packages of lithium cells and batteries in various configurations such as UN3091 Lithium metal batteries packed with or contained in equipment – smaller cells and batteries and UN3536 Cargo Transport Units.
LINK https://www.phmsa.dot.gov/sites/phmsa.dot.gov/files/2022-09/Lithium-Battery-Guide-FN.pdf
We are committed to working with members and partners to understand the risks and continuously improve how the whole industry can manage safe transport of batteries.  If you are aware of learning and guidance that can be usefully shared with the ICHCA community and beyond or you have any views on the material that we spotlighted in our battery safety week, please do get in touch via secretariat@ichca.com.  We would be delighted to hear from you.
Do you have an idea for a Safety Week topic?
Is there a subject that is keeping you awake at night that ICHCA can explore with the membership? Please let us know by contacting Amanda at: secretariat@ichca.com.